Sacagawea
by Judith St. George
Page 1 of 2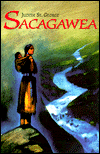 Sacagawea provides the true-life account of the young Shoshone woman who acted as Lewis and Clark's guide on their expedition to the U.S. Northwest in 1805-1806. The author researched the journals of Lewis, Clark, and other members of the expedition to bring the story to life, but used her imagination to add the thoughts and emotions of Sacagawea.
Enrichment Activities
Internet Resources
Books
---
Enrichment Activities
Discussion and Comprehension Questions
1. What was the Journey of Discovery? What was its purpose?
2. Why did President Jefferson feel it was important to explore the western United States?
3. How did Sacagawea meet her husband, Toussaint Charbonneau? What was his occupation?
4. What role did Shoshone women have within their tribe?
5. What were some of the Shoshone traits? Physically? Emotionally?
6. Why did Lewis and Clark want to hire Sacagawea and her husband? How would they benefit the expedition?
7. What were Lewis and Clark's strengths and weaknesses as leaders of the expedition?
8. What kinds of medical treatments did they use to heal the sick on the expedition?
9. What kind of relationship did Sacagawea have with Lewis, Clark, and the other members of the expedition?
10. What kind of relationship did the men have with Toussaint Charbonneau?
11. By what means did the group travel to the Pacific Ocean?
12. How did they navigate their route?
13. What kinds of obstacles did they encounter?
Geography
Have students mark the progress, places, and events of the journey on a large map of the Northwest, which includes North Dakota, Montana, Idaho, Washington, and Oregon. Compare the earth's surface and other formations since the expedition.
Model Building
Build a three-dimensional model of the Northwest and mark the trail Lewis and Clark took on their expedition. Research certain points on their trail to share with the class and discuss the original and modern names for rivers and places. Make special markers for and a special map key explaining certain events and situations.
Keeping a Journal
Have students write journals from the perspective of a member of the journey. Have them describe their daily responsibilities, the weather, their food, the wildlife, the difficulties they overcame, the tribes they encountered, and how the expedition affected their lives.
A Play About Sacagawea
In this lesson, students will create a play based on Sacagawea's life.




Asian-Pacific-American Heritage Month
May is Asian-Pacific-American Heritage Month! Don't overlook this opportunity to study and enjoy activities about the history and culture of Asian-Pacific American communities.
Top 10 Galleries
Explore our most popular Top 10 galleries, from Top 10 Behavior Management Tips for the Classroom and Top 10 Classroom Organization Tips from Veteran Teachers to Top 10 Free (& Cheap) Rewards for Students and Top 10 Things Every Teacher Needs in the Classroom. We'll help you get organized and prepared for every classroom situation, holiday, and more! Check out all of our galleries today.
May Calendar of Events
May is full of holidays and events that you can incorporate into your standard curriculum. Our Educators' Calendar outlines activities for each event, including: Children's Book Week (5/13-19), Biographers Day (5/16), and Memorial Day (5/27). Plus, celebrate Asian-Pacific-American Heritage Month, Clean Air Month, and Physical Fitness & Sports Month all May long!
Common Core Lessons & Resources
Is your school district adopting the Common Core? Work these new standards into your curriculum with our reading, writing, speaking, social studies, and math lessons and activities. Each piece of content incorporates the Common Core State Standards into the activity or lesson.