The Lion, the Witch, and the Wardrobe
by C.S.Lewis
Page 1 of 2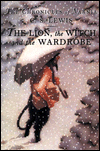 Follow Lucy, Edmund, Susan, and Peter into the fantasy world of Narnia where they encounter a witch, a lion, and many exciting adventures. The book is from The Chronicles of Narnia series. Choose a topic below to get started:
Enrichment Activities
Internet Resources
Books by C.S. Lewis

---
Enrichment Activities:
Marketing Mania
Create a kid's meal package for a fast-food restaurant to promote The Lion, the Witch, and the Wardrobe. Decorate it with scenes from the book. Design a toy that would be included with the meal as a free gift.
TV Time
Create a TV advertisement to promote the kid's fast food meal described above. Write a script and videotape the commercial.
Fantasy Photos
Make a picture scrapbook of fantasy characters from books, nursery rhymes, songs, poems, and television (Old Mother Hubbard, The Wizard of Oz characters, Peter Piper, Snow White, etc.).
Movie vs. Book
There have been several movie versions of this book. Watch one and discuss the similarities and differences between the book and movie.
Flying High
Make a banner or flag for Narnia. Try to highlight characters, places, and events from the story.
Your Own Fantasy World
Imagine you slipped through a secret passage into another world. Make up a fantasy about meeting someone there. Write about what happens and how you get back.
Character Traits
What are some individual character traits of each of the four children: Peter, Susan, Edmund, and Lucy? How do they change over the course of the story? Compare yourself to the characters in the book. What are the simmilarities and differences?
Imagery
This book is full of marvelously, descriptive passages written in vivid language. Illustrate your favorite passage.

Asian-Pacific-American Heritage Month
May is Asian-Pacific-American Heritage Month! Don't overlook this opportunity to study and enjoy activities about the history and culture of Asian-Pacific American communities.
Tornadoes in Oklahoma
The recent rash of
tornadoes in Oklahoma
, which killed at least two dozen people, may have your students wondering why such natural disasters occur, how they may be affected by them, and what they can do to help. Use these resources to teach the geography of Oklahoma and the Southwestern United States, to explain tornadoes, and to discuss the resulting crises with your class.
Top 10 Galleries
Explore our most popular Top 10 galleries, from Top 10 Behavior Management Tips for the Classroom and Top 10 Classroom Organization Tips from Veteran Teachers to Top 10 Free (& Cheap) Rewards for Students and Top 10 Things Every Teacher Needs in the Classroom. We'll help you get organized and prepared for every classroom situation, holiday, and more! Check out all of our galleries today.
May Calendar of Events
May is full of holidays and events that you can incorporate into your standard curriculum. Our Educators' Calendar outlines activities for each event, including: Backyard Games Week (5/23-29) and Memorial Day (5/27). Plus, celebrate Asian-Pacific-American Heritage Month, Clean Air Month, and Physical Fitness & Sports Month all May long!
Common Core Lessons & Resources
Is your school district adopting the Common Core? Work these new standards into your curriculum with our reading, writing, speaking, social studies, and math lessons and activities. Each piece of content incorporates the Common Core State Standards into the activity or lesson.