Set a World's Record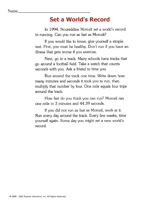 This printable for children presents a short story about setting a world record in running. After reading it, children will answer a series of questions to test their reading comprehension.
Grade Level: 2
Excerpted from
Reading Comprehension Stories, Volume I: Printable Book (Gr. 2)
Compiled by the editors of TeacherVision
®
This printable book will be the perfect complement to your reading comprehension lessons. Students will work on story comprehension through story ordering, fill-in-the-blank, riddles, and more.