Everyday Idioms Printable Book: Volume I (3-6)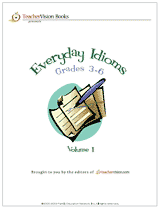 Page Description:
In this printable activity book, students will have the opportunity to discover the meaning of 18 common idioms by seeing them used in many different and engaging contexts. Answer keys are included.
Grade Levels: 3 - 6
The full page is available ONLY to subscribers. Sign up today for a free 7-day trial to get access to this page and all of the 22,000 items on TeacherVision®.
Excerpted from
Horsing Around: Making Sense of Everyday Idioms
Kathrine Scraper
Through context and illustration, students learn to interpret and make sense of 50 everyday idioms such as barking up the wrong tree and hitting the nail on the head. Activity sheets build reading comprehension skills and encourage students to use figurative language in their own creative writing.
Buy This Book