Rounding Whole Numbers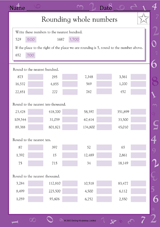 Page Description:
Students round each whole number to the nearest ten, hundred, thousand, or ten-thousand in this math worksheet. Remind students if the place to the right of the place they are rounding is 5, round to the number above.
Grade Level: 5
The full page is available ONLY to subscribers. Sign up today for a free 7-day trial to get access to this page and all of the 22,000 items on TeacherVision®.
Excerpted from
Fifth Grade Math Made Easy
These workbooks have been compiled and tested by a team of math experts to increase your child's confidence, enjoyment, and success at school. Fifth Grade Math Made Easy provides practice at all the major topics for Grade 5 with emphasis on addition and subtraction of fractions and decimals. It includes a review of Grade 4 topics, including Times Tables practice. Learn how the workbook correlates to the Common Core State Standards for mathematics.
Buy This Book