Rubber Band Blast Part II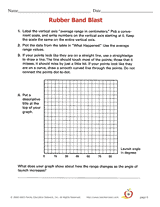 Children continue to explore the range of a rubber band.
Grade Levels: 3 - 6
Excerpted from
Energy Printable Book (3-6)
Compiled by the editors of TeacherVision
®
This printable book provides eye-opening science activities using products that are readily available. Students will enjoy the hands-on activities about different kinds of potential and kinetic energy.