2012 Summer Olympic Games Quiz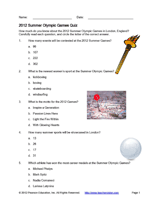 How much do you know about the 2012 Summer Games? Use this multiple-choice quiz to test students' knowledge of Olympic events, athletes, and more.
Grade Levels: 3 - 12

Provided by Infoplease—an authoritative, comprehensive reference website that offers an encyclopedia, a dictionary, an atlas, and several almanacs. Visit Infoplease.com to find more resources endorsed by teachers and librarians.