The Misfits Teacher's Guide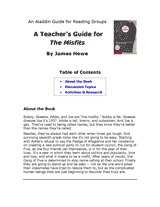 After reading
The Misfits
, use the discussion questions in this guide to examine the events in the book and develop students' critical thinking skills. The related activities and research projects will encourage students to learn about political parties, the history of name-calling, and the experiences of misfits.
Grade Levels: 5 - 9
Excerpted from
The Misfits
James Howe
Bobby, Skeezie, Addie, and Joe are "the misfits." They're used to being called names, but they know they're better than the names they're called. After years of insults, the Gang of Five is determined to stop name-calling at their school. Finally they are going to stand up and be seen—not as the one-word jokes their classmates have tried to reduce them to, but as the complicated human beings they are just beginning to discover they truly are.
Buy This Book

Asian-Pacific-American Heritage Month
May is Asian-Pacific-American Heritage Month! Don't overlook this opportunity to study and enjoy activities about the history and culture of Asian-Pacific American communities.
Top 10 Galleries
Explore our most popular Top 10 galleries, from Top 10 Behavior Management Tips for the Classroom and Top 10 Classroom Organization Tips from Veteran Teachers to Top 10 Free (& Cheap) Rewards for Students and Top 10 Things Every Teacher Needs in the Classroom. We'll help you get organized and prepared for every classroom situation, holiday, and more! Check out all of our galleries today.
May Calendar of Events
May is full of holidays and events that you can incorporate into your standard curriculum. Our Educators' Calendar outlines activities for each event, including: Children's Book Week (5/13-19), Biographers Day (5/16), and Memorial Day (5/27). Plus, celebrate Asian-Pacific-American Heritage Month, Clean Air Month, and Physical Fitness & Sports Month all May long!
Common Core Lessons & Resources
Is your school district adopting the Common Core? Work these new standards into your curriculum with our reading, writing, speaking, social studies, and math lessons and activities. Each piece of content incorporates the Common Core State Standards into the activity or lesson.