Detective's Log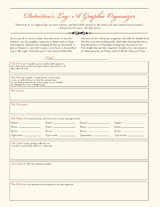 Keep track of the details in a detective story or mystery novel – including victims, suspects, and clues – with the printable Detective's Log. It's a fun and easy way to discover the solution to the crime! This graphic organizer also works well for students planning to write their own mystery story. Check out our
guide to the mystery genre
for more tips on being the detective.
Grade Levels: 6 - 12
Adapted from The Hound of the Baskervilles Teacher's Guide, written by Katherine Schulten for MASTERPIECE and created by the WGBH Educational Foundation. © WGBH EDUCATIONAL FOUNDATION. For the complete, original guide, go to http://www.pbs.org/wgbh/masterpiece/hound/tguide.html.

For more about the current season of MASTERPIECE MYSTERY!, featuring Agatha Christie, Hercule Poirot, and Inspector Lewis, visit http://www.pbs.org/masterpiece. For award-winning teacher's guides, click on "Learn." For book and film club resources, click on "Book & Film Club."