Shadow of a Bull
by Maia Wojciechowska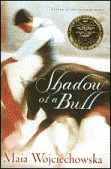 Set in a small town in Spain, Shadow of a Bull leads readers into the life of Manola Olivar, and eleven-year old boy. At such a young age Manola is already struggling with what professional path to take. His wish is to become a doctor but his family and the townspeople are pressuring him to take the same career path as his late father, a world famous bullfighter. Manola is torn between remaining faithful to himself, or honoring his late father.
To buy this book, click here or on the book cover.

Enrichment Activities


Internet Resources


Books by Maia Wojciechowska
---
Enrichment Activities
Act Out a Scene
Assign students, in groups of three or four, to act out a scene from Shadow of a Bull.


Bullfighting
Have students prepare a Power Point presentation on bullfighting. Use the sites listed below as references.


Book Cover Design
Get students thinking about the main message of the book by having them design a new book cover. You can also have your class analyze the different book covers that the novel has been published with since 1965. Some examples are below.



| | | |
| --- | --- | --- |
| September 2004 | March 1972 | April 1992 |

Folk Tale Problem-Solving
Students will create their own folk tale with characters, a setting, and a problem.


Integrate Art
Contact your school's art teacher and brainstorm ideas that would integrate art, Hispanic Heritage, and the book Shadow of a Bull. Some suggested materials include clay, pastels, or paper collage.


Shadow of a Bull Word Search
Challenge your students vocabulary skills with this word search.


Story Elements
Define the story elements of Shadow of a Bull by breaking down the different components of the book.


TeacherVision's Hispanic Heritage Theme
This theme page is packed with lessons, activities, and references for all grade levels about Hispanic Heritage.

Internet Resources
Bullfighting Terms
Grade Levels: All
This glossary of bullfighting terms will help students while reading Shadow of a Bull.
http://mundo-taurino.org/alt_word.html
The History of Bullfighting
Grade Levels: All
An explanation and history of one of Spain's most popular pastimes.
http://www.red2000.com/spain/toros/
Information about Spain
Grade Levels: All
Facts about the geography, government, and history of Spain.
http://ln.infoplease.com/ipa/A0107987.html
Maia Wojciechowska – Biographical Sketch
Grade Levels: All
A biography of the late Newbery-Award winning author.
http://www.lib.usm.edu/%7Edegrum/html/research/findaids/wojciech.htm#bio


Books by Maia Wojciechowska
Don't Play Dead before You Have ToDreams of CyclingDreams of FashionsDreams of GolfDreams of Ice DancingDreams of SoccerDreams of the DeepDreams of the HoopDreams of the Indy Five HundredDreams of the Kentucky DerbyDreams of the Super BowlDreams of the World SeriesDreams of WimbledonDreams of Winter GoldHey, What's Wrong with This One?Hollywood KidHow God Got Christian into TroubleKingdom in a HorseLife and Death of a Brave BullPeople in His LifeShadow of a BullSingle LightThrough the Broken Mirror with AliceTill the Break of Day