What Causes Magnetism?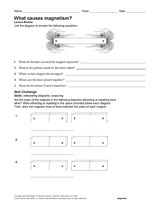 Page Description:
Students will refer to the diagram in this printable to answer questions about magnetism. As a skill challenge, students will determine whether the poles of magnets are attracting or repelling each other, and will draw the magnetic lines of force.
Grade Levels: 6 - 12
The full page is available ONLY to subscribers. Sign up today for a free 7-day trial to get access to this page and all of the 22,000 items on TeacherVision®.