Teammates
by Peter Golenbock
Illustrated by Paul Bacon
Page 1 of 2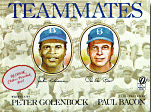 In this account of Jackie Robinson's brave beginnings in Major League baseball, his teammate, Harold Henry "Pee Wee" Reese, helps Jackie to defy prejudice. Paul Bacon's pastel drawings capture the complex emotions of the time, as well as the eventual support and recognition achieved by Robinson.
To buy this book, click here or on the book cover.


Enrichment Activities


Internet Resources


Books by Peter Golenbock
---
Enrichment Activities
Did You See Jackie Robinson Hit That Ball?
Ask your school's music teacher to help students practice this song about Jackie Robinson, written by Woodrow Buddy Johnson in June 1949.


Integrate Art
Contact your school's art teacher and brainstorm ideas that would integrate art and the book Teammates. Some suggested materials to use include clay, pastels, or paper collage.


Jackie Robinson and Civil Rights
This lesson plan helps students think critically about the Civil Rights movement and its key players as they explore a biographical site about Jackie Robinson.


Jackie Robinson Coloring Page
Students complete this coloring page of the famous baseball legend.


The Struggle Against Segregation
Students learn about the history of segregation in the United States by reading about the Little Rock Nine, a courageous group of students who helped advance educational opportunities for African-Americans in the 1950s.


Teammates Questions and Vocabulary

Enrichment Questions

"Jackie was mobbed by blacks, young and old, as if he were a savior." What does it mean to be "a savior?" Do you think Jackie Robinson was a savior?
Was Pee Wee Reese loyal to Jackie Robinson? How do you know?
Draw a three-way Venn Diagram to compare and contrast the courageous acts of Jackie Robinson, Pee Wee Reese, and Branch Rickey.
Write about it a time when you had to be courageous.


Challenging Vocabulary Words

apathetic
courage
humiliation
loyalty
respect
prejudice
segregation
taunts
vigilante
Internet Resources

American Memory: Jackie Robinson
Grade Levels: All
The Library of Congress has compiled an extensive website on Jackie Robinson that includes photos, related websites, and a biography.
http://memory.loc.gov/ammem/jrhtml/jrhome.html
Peter Golenbock Homepage
Grade Levels: All
On this site you can read a biography of Mr. Golenbock, see a list of published books, and even make a suggestion for his next book.
http://www.golenbockbooks.com/



Asian-Pacific-American Heritage Month
May is Asian-Pacific-American Heritage Month! Don't overlook this opportunity to study and enjoy activities about the history and culture of Asian-Pacific American communities.
Tornadoes in Oklahoma
The recent rash of
tornadoes in Oklahoma
, which killed at least two dozen people, may have your students wondering why such natural disasters occur, how they may be affected by them, and what they can do to help. Use these resources to teach the geography of Oklahoma and the Southwestern United States, to explain tornadoes, and to discuss the resulting crises with your class.
Top 10 Galleries
Explore our most popular Top 10 galleries, from Top 10 Behavior Management Tips for the Classroom and Top 10 Classroom Organization Tips from Veteran Teachers to Top 10 Free (& Cheap) Rewards for Students and Top 10 Things Every Teacher Needs in the Classroom. We'll help you get organized and prepared for every classroom situation, holiday, and more! Check out all of our galleries today.
May Calendar of Events
May is full of holidays and events that you can incorporate into your standard curriculum. Our Educators' Calendar outlines activities for each event, including: Backyard Games Week (5/23-29) and Memorial Day (5/27). Plus, celebrate Asian-Pacific-American Heritage Month, Clean Air Month, and Physical Fitness & Sports Month all May long!
Common Core Lessons & Resources
Is your school district adopting the Common Core? Work these new standards into your curriculum with our reading, writing, speaking, social studies, and math lessons and activities. Each piece of content incorporates the Common Core State Standards into the activity or lesson.