Maniac Magee
by Jerry Spinelli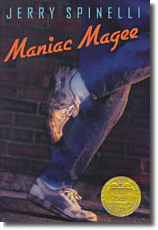 This Newbery Medal winner tells the mythical tale of a legendary hero: 12-year-old Jeffrey Magee – known as Maniac Magee. An orphan with no place to call home, Maniac Magee enters Two Mills, a town sharply divided by race. Magee's athletic skills, combined with his nonjudgmental way, lead the people of Two Mills to overcome segregation, racial profiling, and ignorance.
Note: To buy this book, click on the book cover.

Enrichment Activities


Internet Resources


Books by Jerry Spinelli
---
Enrichment Activities
Authors Live Interview with Jerry Spinelli
Use this interview transcript of TeacherVision's Authors Live with Newbery Award-winning author Jerry Spinelli. Share with your class the questions that students from around the country asked Mr. Spinelli.


Character Traits Chart
There are many notable characters in this story who possess exceptional traits. Construct a chart that lists the traits of the main characters in Maniac Magee: Amanda Beale, Maniac Magee, John McNab, Earl Grayson, Mars Bar Thompson, Russell and Piper McNab. Use the character traits chart as a word bank.


Home Sweet Home
Maniac is searching for a home. Explore the meaning of "home" with your students. Have them create a shape poem, a recycled poem, a poem of alliterations, an acrostic poem, a limerick, a haiku , or other type of poem that reflects how they feel about their home.


Hyperbole Hunt
There are numerous examples of hyperbole (extravagant exaggeration; example: "arms and legs pistoning to a blur") in Maniac Magee. Break your class into teams of three students, hold a Hyperbole Scavenger Hunt, and see which team can come up with the most finds. It is fun to have the students illustrate the hyperboles' literal meanings.


Maniac for Mayor
Pretend that Maniac is running for mayor of Two Mills. Have your students design an election poster and campaign slogan for him. Then, assign them to write and deliver endorsement speeches in favor of Maniac for Mayor.


Oral History
Maniac Magee learns about Grayson from the tales the old man tells. Have your students learn more about a significant elderly person in his/her life. Use this worksheet to help the students and the interviewed person get started.


Tall Tales
Maniac Magee has many of the elements of a tall tale:

A superhuman main character who has a unique mission to accomplish
A problem that is often resolved humorously
Frequent use of hyperbole and exaggeration
Characters who appear normal in most respects

Have your students research a tall tale character: e.g., Paul Bunyon, Johnny Appleseed, Pecos Bill, John Henry, John Chapman, Davy Crockett. Then have them draw a Venn diagram to compare and contrast the tall tale characteristics of Manic Magee with their research character.
Books by Jerry Spinelli
The Bathwater Gang
Grade Levels: Intermediate
Bertie's all-girl gang becomes involved in a harmless but heartfelt war with an all-boy gang, until Bertie's grandmother steps in with a perfect solution.
The Bathwater Gang Gets Down to Business
Grade Levels: Intermediate
When the Bathwater Gang fails to make money with its pet-cleaning business, Bertie comes up with a slightly dishonest idea to ensure success.
Blue Ribbon Blues: A Tooter Tale
Grade Levels: Intermediate
When Tooter Pepperday and her family move to her aunt's farm, she decides to impress everyone and win a blue ribbon at the county fair.
Crash
Grade Levels: Middle
Crash is a seventh-grade football hero, macho to the bone, who revels in his buddyhood with his neighbor Mike, the companionship of his beloved grandfather, and the fresh possibilities suggested by a pretty new girl in his class.
Do the Funky Pickle
Grade Levels: Intermediate, Middle
Eddie's struggle to win the affections of Sunny is complicated by a dance called the Funky Pickle and an orange-haired girl called Angelpuss.
Dump Days
Grade Levels: Intermediate, Middle
On the first morning of the first day of their summer vacation, J. D. Kidd and his best friend resolve to have an absolutely perfect day before the summer ends.
Fourth Grade Rats
Grade Levels: Intermediate, Middle
Suds learns that his best friend is wrong. You don't have to be a tough guy, a "rat," to be a grown-up fourth grader.
Jason and Marceline
Grade Levels: Middle
In this sequel to
Space Station Seventh Grade
, Jason Herkimer describes his love for Marceline McCallister.
Knots in My Yo-Yo String: The Autobiography of a Kid
Grade Levels: Intermediate, Middle
The Newbery Medalist presents a humorous account of his childhood and youth in Norristown, Pennsylvania.
The Library Card
Grade Levels: Intermediate, Middle
Four poignant and often funny tales of the life-changing effect a little blue library card has on the four young people who discover it.
Night of the Whale
Grade Levels: Middle, Secondary
Six rowdy high school seniors staying at a beach house for the summer are determined to devote themselves to partying until the night they encounter a group of beached whales.
Space Station Seventh Grade
Grade Levels: Middle
Seventh-grader Jason narrates the events of his year, from school, hair, and pimples, to mothers, little brothers, and a girl.
Stargirl
Grade Levels: Middle
In a moving and highly engaging tale about the vagaries of adolescent peer pressure, Jerry Spinelli tells the story of Stargirl, a high school student who is startlingly different from everyone else.
There's a Girl in my Hammerlock
Grade Levels: Intermediate, Middle
Thirteen-year-old Maisie joins her school's formerly all-male wrestling team and tries to last through the season, despite opposition from other students, her best friend, and her own teammates.
Tooter Pepperday
Grade Levels: Intermediate
Hating to leave her familiar surroundings, Tooter resorts to sabotage when her family moves from their suburban home to Aunt Sally's farm.
Who Put that Hair in My Toothbrush?
Grade Levels: Intermediate, Middle
The sibling rivalry between twelve-year-old Megin and her older brother Greg intensifies after she ruins his science project and he retaliates by throwing her favorite hockey stick into the pond.
Wringer
Grade Levels: Intermediate, Middle
Nine-year-old Palmer faces his future as a wringer - that is, one of the ten-year-old boys who strangle the pigeons wounded during the town's annual pigeon shoot. Palmer does not want to kill pigeons; in fact, by fate or happenstance, he has befriended one, a bonding that must be concealed from his bullying 'friends.'