What Are Some Bacterial Diseases?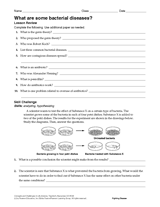 Page Description:
Use reference materials to research germ theory, bacterial diseases, antibiotics, Robert Koch, Alexander Fleming, and more. In this printable, students will answer questions about these scientists and their discoveries. As a skill challenge, they will analyze and hypothesize the outcome of an experiment.
Grade Levels: 6 - 12
The full page is available ONLY to subscribers. Sign up today for a free 7-day trial to get access to this page and all of the 22,000 items on TeacherVision®.