Extreme Weather Disasters Quiz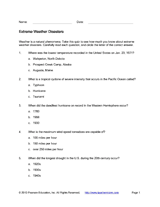 Weather is a natural phenomena. Giver students this quiz to see how much they know about extreme weather disasters.
Grade Levels: 4 - 8

Provided by Infoplease—an authoritative, comprehensive reference website that offers an encyclopedia, a dictionary, an atlas, and several almanacs. Visit Infoplease.com to find more resources endorsed by teachers and librarians.