Trick-or-Treat Bag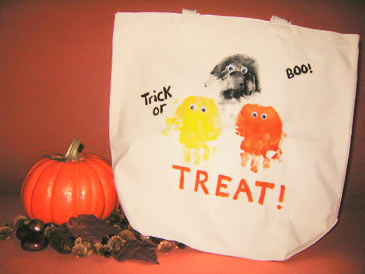 Age: Preschool and up
Time: An hour or more
Type of activity: Arts and Crafts

Your kids will love trick or treating with their own homemade treat bag!

Materials needed:
· Canvas tote bag (sold at local craft stores)
· Tempera paints (Halloween colors)
· Paintbrush
· Paper plates
· Scissors
· Wiggle eyes (sold at local craft stores)
· Felt, glitter, buttons, or other decorative materials (optional)
· Fabric glue
· Newspaper

What to do:

Step 1: Lay newspaper over your work area in case of spills.

Step 2: Pour a bit of paint on a paper plate. Use a new plate for each color.

Step 3: Lay the canvas bag on the newspaper with the handles pointing towards you.

Step 4: Use the paintbrush to lightly coat the palm of your child's hand with paint.

Step 5: Your child will make "ghosts" with her handprint. To do this, have her press her hand on the canvas bag where she wants her first "ghost" to be. Make sure her fingers are pointing away from the bag's handles, toward the bottom of the bag (so when the bag is upright, you'll see an upside-down handprint).

Step 6: Repeating step 5, use different colors to make as many ghosts as she'd like.

Step 7: Paint any other designs you'd like on the bag.

Step 8: Let the paint dry. Then, glue a pair of wiggle eyes to each ghost, securing them with fabric glue.

Step 9: Now, add any additional decorative items to the bag. For example, you could cut out a felt moon and glue it to the bag or add sparkle to your ghosts with glitter.

Step 10: Let the bag dry completely - then fill it with treats on Halloween!
More Halloween Crafts for Kids.

Asian-Pacific-American Heritage Month
May is Asian-Pacific-American Heritage Month! Don't overlook this opportunity to study and enjoy activities about the history and culture of Asian-Pacific American communities.
Top 10 Galleries
Explore our most popular Top 10 galleries, from Top 10 Behavior Management Tips for the Classroom and Top 10 Classroom Organization Tips from Veteran Teachers to Top 10 Free (& Cheap) Rewards for Students and Top 10 Things Every Teacher Needs in the Classroom. We'll help you get organized and prepared for every classroom situation, holiday, and more! Check out all of our galleries today.
May Calendar of Events
May is full of holidays and events that you can incorporate into your standard curriculum. Our Educators' Calendar outlines activities for each event, including: Children's Book Week (5/13-19), Biographers Day (5/16), and Memorial Day (5/27). Plus, celebrate Asian-Pacific-American Heritage Month, Clean Air Month, and Physical Fitness & Sports Month all May long!
Common Core Lessons & Resources
Is your school district adopting the Common Core? Work these new standards into your curriculum with our reading, writing, speaking, social studies, and math lessons and activities. Each piece of content incorporates the Common Core State Standards into the activity or lesson.