Callahan Cousins: Summer Begins
by Elizabeth Doyle Carey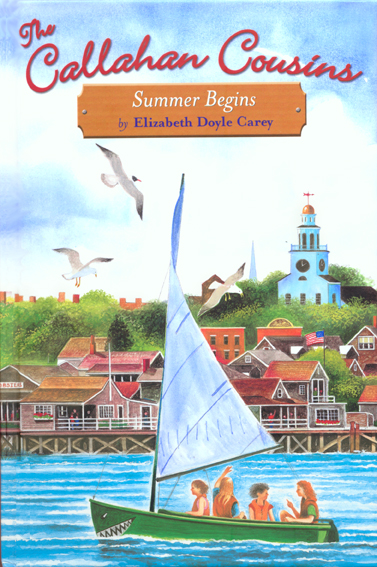 Callahan Cousins: Summer Begins celebrates family ties, loyalty, and the wisdom of children. Follow four preteen girls who are having the adventure of a lifetime while spending the summer with their grandmother on Gull Island.
Read the Book Review: Callahan Cousins, to find more about the educational value of this book. Explore Callahan Cousins: Summer Begins with your students. This book was originally published online at Funbrain.com, but is now also available in print!
Activities
Assign students to fill in a timeline of major events from the story.


Have your students pretend they are writing an article for a newspaper on the feud between the Callahans and the Bickets. Use the handout to focus them on the assignment, as they answer questions and write the article.


Using the Internet or the library, students can write FAQs about a nature-related topic from the story (tides, channels, water depth, wind, islands, or fog).


Have students design a different bedroom for each of the cousins, based on their unique personality and style.


Ask your students to imagine 20 years into the future for each cousin. What career will each have? Where will each of them live? Will any of them be married? Will they have children? Have them write a bio on each cousin.


The Callahan grandmother, Gee, states that the only true Callahan traits are generosity, enthusiasm, good sportsmanship, manners, and a sense of humor. Do the cousins have those traits? Assign students to find one example of each trait in the book, and identify which cousin showed that trait.


How would this story be different if it were set on a farm? In a city? With boy cousins? In the 1800s?


Wind is an integral natural element of this story. Ask students to create an invention that uses the wind effectively.


Traditions are very important to the Callahans (for example, Pig Out night, 12-year-old cousins visiting Gull Island for the summer). Do your students have traditions in their family or with friends? Assign students to pick three traditions that are the most important to them and write a paragraph about each one.



Asian-Pacific-American Heritage Month
May is Asian-Pacific-American Heritage Month! Don't overlook this opportunity to study and enjoy activities about the history and culture of Asian-Pacific American communities.
Tornadoes in Oklahoma
The recent rash of
tornadoes in Oklahoma
, which killed at least two dozen people, may have your students wondering why such natural disasters occur, how they may be affected by them, and what they can do to help. Use these resources to teach the geography of Oklahoma and the Southwestern United States, to explain tornadoes, and to discuss the resulting crises with your class.
Top 10 Galleries
Explore our most popular Top 10 galleries, from Top 10 Behavior Management Tips for the Classroom and Top 10 Classroom Organization Tips from Veteran Teachers to Top 10 Free (& Cheap) Rewards for Students and Top 10 Things Every Teacher Needs in the Classroom. We'll help you get organized and prepared for every classroom situation, holiday, and more! Check out all of our galleries today.
May Calendar of Events
May is full of holidays and events that you can incorporate into your standard curriculum. Our Educators' Calendar outlines activities for each event, including: Backyard Games Week (5/23-29) and Memorial Day (5/27). Plus, celebrate Asian-Pacific-American Heritage Month, Clean Air Month, and Physical Fitness & Sports Month all May long!
Common Core Lessons & Resources
Is your school district adopting the Common Core? Work these new standards into your curriculum with our reading, writing, speaking, social studies, and math lessons and activities. Each piece of content incorporates the Common Core State Standards into the activity or lesson.