Stay with Me Discussion Guide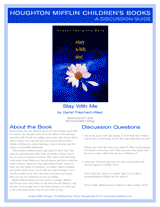 Stimulate class discussion and deepen students' understanding of the book
Stay with Me
through the questions provided in this teacher's guide. Explore the relationships of family and friends in this coming-of-age story about a teenage girl who investigates her half-sister's suicide.
Grade Levels: 8 - 12

Whether you're looking to share classic characters with young students or to explore literature in more depth with older readers, Houghton Mifflin Harcourt has something for everyone. From
Mike Mulligan and His Steam Shovel
to Tolkien's
The Lord of the Rings
, you'll find great resources for students of varying ages.