Ready to Rhyme with Hop on Pop
Grade Levels: Pre-K - 2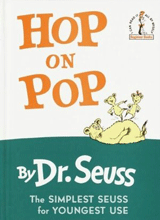 Objectives
The student will recognize similar letters in groups of words.
Using index cards, the student will form rhyming words.
Using letter tiles, the student will write rhyming words correctly.
Materials
Letter tiles, one container per student
Practice masters
Index cards, markers
Hop on Pop by Dr. Seuss
Rhyming Bingo game
Procedures
Using practice masters, the students will circle similar letters in words (rhyming sounds).
Using 2 sets of index cards, students will form rhyming words. One group of students will have cards with red letters printed on them. The other group will have blue letters. Each set of cards will contain all letters of the alphabet. The teacher will write a word, such as "bag", on the board. At the sound, "Go", each group will be instructed to form the word using the index cards. The first group to correctly spell the word earns one point. The game continues until ten points are earned by one of the groups.
The students will be given a BINGO card and markers. Play the game as usual.
The book Hop on Pop, by Dr. Seuss, will be given to each student. The teacher will read it aloud to the students. Students will follow along with the teacher. After every 2-3 pages, the teacher will stop reading and ask students, "Which words are rhyming words?"
Using the book, Hop on Pop, students will use letter tiles to make words found in the book. The students will place tiles in proper order to make words such as day, play, say, all, tall, ball.

Asian-Pacific-American Heritage Month
May is Asian-Pacific-American Heritage Month! Don't overlook this opportunity to study and enjoy activities about the history and culture of Asian-Pacific American communities.
Tornadoes in Oklahoma
The recent rash of
tornadoes in Oklahoma
, which killed at least two dozen people, may have your students wondering why such natural disasters occur, how they may be affected by them, and what they can do to help. Use these resources to teach the geography of Oklahoma and the Southwestern United States, to explain tornadoes, and to discuss the resulting crises with your class.
Top 10 Galleries
Explore our most popular Top 10 galleries, from Top 10 Behavior Management Tips for the Classroom and Top 10 Classroom Organization Tips from Veteran Teachers to Top 10 Free (& Cheap) Rewards for Students and Top 10 Things Every Teacher Needs in the Classroom. We'll help you get organized and prepared for every classroom situation, holiday, and more! Check out all of our galleries today.
May Calendar of Events
May is full of holidays and events that you can incorporate into your standard curriculum. Our Educators' Calendar outlines activities for each event, including: Backyard Games Week (5/23-29) and Memorial Day (5/27). Plus, celebrate Asian-Pacific-American Heritage Month, Clean Air Month, and Physical Fitness & Sports Month all May long!
Common Core Lessons & Resources
Is your school district adopting the Common Core? Work these new standards into your curriculum with our reading, writing, speaking, social studies, and math lessons and activities. Each piece of content incorporates the Common Core State Standards into the activity or lesson.