Sign of the Beaver
by Elizabeth George Speare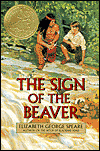 Left alone to guard the family's wilderness home in eighteenth-century Maine, Matt is hard-pressed to survive until neighboring Indians teach him their skills. This is a timeless story of courage, commitment, friendship, values, and overcoming cultural divides. It won the Newbery Honor Medal in 1984.
To buy this book, click here or on the book cover.

Enrichment Activities


Internet Resources


Books by Elizabeth George Speare
---
Enrichment Activities
The Beginnings
Elizabeth George Speare got the idea for Sign of the Beaver from an actual story. Read the description of the "real-life" Matt and Attean. Have your students use a Venn Diagram to compare and contrast the fiction with the nonfiction.

Design Studio
Your students will enjoy tapping into their artistic abilities to design a Book Scene Postcard or Reading Bookmarks that reflect aspects of Sign of the Beaver.

My Crystal Ball Says
Students predict what will happen to major characters from the book 20 years after the conclusion of the story.

Picture That Place
There are so many wonderful settings in this story: Matt's house, Attean's village, the beehive, the beaver dam. Have students draw their favorite spot. Make a class gallery of the finished products.

Describe That Character
Students fill in this worksheet to capture the important characteristics of Attean and Matt.

The Ending After the Ending
At the end of Sign of the Beaver, the reader is left wondering what will happen to Attean and his tribe as they set of to settle in a new place. We also think about Matt and his family's survival in the tough wilderness of Maine. Have your students use their imaginations to take the story beyond its ending.
Internet Resources
Hudson Museum – University of Maine
Grade Levels: Intermediate, Middle, Secondary
The Hudson Museum provides excellent background information on the Penobscot Indians.
http://www.umaine.edu/hudsonmuseum/onli.php

SCORE CyberGuide
Grade Levels: Intermediate, Middle, Secondary
This excellent grouping of lessons focuses on this central question: "In colonial New England, what was life like for settlers and Native Americans?"
http://www.sdcoe.k12.ca.us/score/beav/beavtg.html

What Would You Do?
Grade Levels: All
Students are asked to decide what they would do if they were Matt – would they leave with Attean or wait for their family? They use the Internet to research key elements to make their decisions in this Webquest.
http://aldertrootes.wcpss.net/literature/signofthebeaver.html
Other Books by Elizabeth George Speare
The Bronze Bow
Grade Levels: Intermediate, Middle
Set in Galilee in the time of Jesus, this is the story of a young Jewish rebel who is won over to the gentle teachings of Jesus. This book won the Newbery Medal for Best Children's Book.

Calico Captive
Grade Levels: Intermediate, Middle
Early one morning in the year 1754, the stillness of Charlestown, New Hampshire was shattered by shrill war whoops and the terror of an Indian raid. On a day which had promised new happiness, young Miriam Willard found herself instead a captive on a forest trail, caught up in the ebb and flow of the French and Indian War.

The Witch of Blackbird Pond
Grade Levels: Intermediate, Middle
The only place where Kit feels completely free is in the meadows. There she enjoys the company of the old Quaker woman known as the Witch of Blackbird Pond, and occasionally, her young sailor friend, Nat. But when Kit's friendship with the "witch" is discovered, Kit is faced with suspicion, fear, and anger.

Asian-Pacific-American Heritage Month
May is Asian-Pacific-American Heritage Month! Don't overlook this opportunity to study and enjoy activities about the history and culture of Asian-Pacific American communities.
Tornadoes in Oklahoma
The recent rash of
tornadoes in Oklahoma
, which killed at least two dozen people, may have your students wondering why such natural disasters occur, how they may be affected by them, and what they can do to help. Use these resources to teach the geography of Oklahoma and the Southwestern United States, to explain tornadoes, and to discuss the resulting crises with your class.
Top 10 Galleries
Explore our most popular Top 10 galleries, from Top 10 Behavior Management Tips for the Classroom and Top 10 Classroom Organization Tips from Veteran Teachers to Top 10 Free (& Cheap) Rewards for Students and Top 10 Things Every Teacher Needs in the Classroom. We'll help you get organized and prepared for every classroom situation, holiday, and more! Check out all of our galleries today.
May Calendar of Events
May is full of holidays and events that you can incorporate into your standard curriculum. Our Educators' Calendar outlines activities for each event, including: Backyard Games Week (5/23-29) and Memorial Day (5/27). Plus, celebrate Asian-Pacific-American Heritage Month, Clean Air Month, and Physical Fitness & Sports Month all May long!
Common Core Lessons & Resources
Is your school district adopting the Common Core? Work these new standards into your curriculum with our reading, writing, speaking, social studies, and math lessons and activities. Each piece of content incorporates the Common Core State Standards into the activity or lesson.