Roll of Thunder, Hear My Cry
by Mildred D. Taylor
Page 1 of 2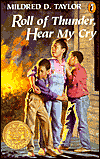 Mildred D. Taylor's Newbery Award-winning novel, Roll of Thunder, Hear My Cry, will capture your middle and intermediate students' attention. This story is about a black family who must struggle with discrimination during the Depression of the 1930s.
To buy this book, click here or on the book cover.
Enrichment Activities
Internet Resources
Books by Mildred D. Taylor
---
Enrichment Activities
Roll of Thunder, Hear My Cry – Projects and Activities
Create a poem similar to the one in Chapter 11, make a family tree for Cassie, or find other activities to supplement the student understanding of the book.

Roll of Thunder, Hear My Cry – Synopsis and The Melting Pot Activity
This activity will help your students understand highlights and concepts of the book.

Roll of Thunder, Hear My Cry – Comprehension Questions
Check your students' comprehension of the story with these questions.

The Struggle Against Segregation
Students learn some of the history of segregation in the United States by reading about the Little Rock Nine, a courageous group of students who helped advance educational opportunities for African Americans in the 1950s.

The Logan Family
Have students read the award-winning sequels to Roll of Thunder, Hear My Cry . Let the Circle Be Unbroken and The Road to Memphis are good ways to learn more about the Logans' fight for survival.

African – American Heroes
Learn about the important African – Americans who have made an impact on the United States. Students can pick a famous person to research and write about.

Internet Resources
Roll of Thunder Hear My Cry: Judging the Authenticity of Historical Fiction
Grade Levels: Middle, Secondary
Students judge the historical accuracy of Mildred D. Taylor's depiction of African American life in the South during the 1930's.
http://www.bcps.org/offices/lis/models/rollofthunder/index.html

Asian-Pacific-American Heritage Month
May is Asian-Pacific-American Heritage Month! Don't overlook this opportunity to study and enjoy activities about the history and culture of Asian-Pacific American communities.
Top 10 Galleries
Explore our most popular Top 10 galleries, from Top 10 Behavior Management Tips for the Classroom and Top 10 Classroom Organization Tips from Veteran Teachers to Top 10 Free (& Cheap) Rewards for Students and Top 10 Things Every Teacher Needs in the Classroom. We'll help you get organized and prepared for every classroom situation, holiday, and more! Check out all of our galleries today.
May Calendar of Events
May is full of holidays and events that you can incorporate into your standard curriculum. Our Educators' Calendar outlines activities for each event, including: Children's Book Week (5/13-19), Biographers Day (5/16), and Memorial Day (5/27). Plus, celebrate Asian-Pacific-American Heritage Month, Clean Air Month, and Physical Fitness & Sports Month all May long!
Common Core Lessons & Resources
Is your school district adopting the Common Core? Work these new standards into your curriculum with our reading, writing, speaking, social studies, and math lessons and activities. Each piece of content incorporates the Common Core State Standards into the activity or lesson.