Estimating Sums and Differences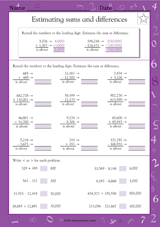 Page Description:
To complete the first part of this math worksheet, students round the numbers to the leading digit, then estimate the sum or difference. In the second section, students round numbers, add, subtract, and compare values to determine if each sum or difference is less than or greater than the given number.
Grade Level: 5
The full page is available ONLY to subscribers. Sign up today for a free 7-day trial to get access to this page and all of the 22,000 items on TeacherVision®.
Excerpted from
Fifth Grade Math Made Easy
These workbooks have been compiled and tested by a team of math experts to increase your child's confidence, enjoyment, and success at school. Fifth Grade Math Made Easy provides practice at all the major topics for Grade 5 with emphasis on addition and subtraction of fractions and decimals. It includes a review of Grade 4 topics, including Times Tables practice. Learn how the workbook correlates to the Common Core State Standards for mathematics.
Buy This Book