The Diary of Anne Frank: Literature & Film Guide
Page 1 of 6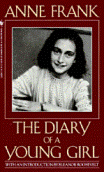 Pair your study of the classic book The Diary of Anne Frank with the PBS MASTERPIECE Classic film version of the story. This guide to both the book and film will extend students' understanding of the story and the era in which it was written. It will be a meaningful addition to your study of World War II and the Holocaust as well. To buy the DVD, visit PBS's website or your favorite movie retailer.
Introduction

Extension Activities
In Search of Self
Banned Books
Making History Personal
Connecting Historical & Current Events

For Further Research
Recommended Resources

---
Introduction to The Diary of Anne Frank
Before beginning your discussion of Anne Frank's diary, it is useful to begin with events surrounding the Franks' detention in the attic, including anti-Semitic feelings in Europe, the rise of the Nazi regime in Germany, the events of World War II, the Holocaust, and the Franks' lives beforehand.
Born on June 12, 1929, Anne Frank was a Jewish girl and only 13 years old when she was forced to go into hiding during the Holocaust. She and her family, along with four others, spent 25 months during World War II in an annex of rooms above her father's office in Amsterdam, the Netherlands, before they were found by the Nazis and sent to concentration camps. Although Anne did not survive, her diary did. It was saved during the war by one of the family's helpers, Miep Gies, and was first published in 1947.
Background information provided by Facing History and Ourselves
The History of Anti-Semitism
In order to understand the Holocaust, is it helpful to explore the foundations of anti-Semitism. Anti-Semitism is the unfounded hatred of Jews because they are Jews. That hatred has had a long history in Europe and beyond. In earlier times, Jews were subject to discrimination and persecution because they refused to accept the religion of the majority. Jews who converted, or so Christians claimed, were no longer considered outsiders; they belonged. In the 1800s, a new form of anti-Semitism emerged. It was based on the false notion that humans are divided into separate and distinct "races," and therefore people born as Jews, regardless of their religious beliefs, belonged to an evil and dangerous "race." Jews were now considered permanent outsiders.
In times of crisis, Jews and other minorities have always been at risk, and the upheavals after World War I and the worldwide depression that began in the 1930s were no exceptions. In such times, many people are attracted to simple answers to complex problems. Those answers often place the blame for the crisis on the "other" in the society. Anti-Semitism rose in nearly every nation in Europe and the Americas during those crises.
Anne Frank and Her Family
In 1933, Otto Frank left Germany and settled in Amsterdam, the capital of the Netherlands – a city with a reputation for religious tolerance. Otto Frank had this reputation in mind when he made the decision to move his wife, Edith, and daughters, Margot and Anne, from their home in Frankfurt to Amsterdam. Otto moved to Amsterdam in 1933; he brought his family a year later, in 1934. Like many other Jews, Otto Frank believed that by leaving Germany and emigrating to the Netherlands, he would be transporting his family to safety and freedom. Although the Netherlands had its own Nazi party, it was not yet a danger. So the Franks and other refugees from Germany settled comfortably in their new home.
In Amsterdam, Otto Frank set up a successful company that produced pectin, an ingredient used to make jam. Within a year, the Franks had settled into an apartment, and Margot and Anne were attending school and flourishing in their new home.
Then on September 1, 1939, the Nazis invaded Poland. Two days later, Britain and France declared war on Germany. World War II had officially begun. By 1940, the Germans occupied the Netherlands, Denmark, Norway, Belgium, Luxembourg, and France. In June 1941, they invaded the Soviet Union. By December of 1941, the Germans had also declared war on the United States.
When Germany invaded the Netherlands in 1940, the Frank family once again found itself living under Nazi rule. Over the next two years, Jews were gradually removed from public life. The first mass arrests took place in February 1941.
More Historical Information
For more information on the events surrounding Anne Frank's experiences and related activities and lessons, see the following:
NEXT: Extension Activities—In Search of Self

Adapted from MASTERPIECE CLASSIC The Diary of Anne Frank Teacher's Guide, created by Bennett Singer for the WGBH Educational Foundation/MASTERPIECE © 2010 WGBH.

PBS's MASTERPIECE has been airing lavish, magnificently acted adaptations of British classics for most of the series' 40-year history. Educators have received award-winning, teacher's guides for many of these programs and can continue to find them—free of charge and online at http://www.pbs.org/wgbh/masterpiece/learn/. To view a schedule of upcoming programs, visit http://www.pbs.org/wgbh/masterpiece/schedule/index.html

Asian-Pacific-American Heritage Month
May is Asian-Pacific-American Heritage Month! Don't overlook this opportunity to study and enjoy activities about the history and culture of Asian-Pacific American communities.
Tornadoes in Oklahoma
The recent rash of
tornadoes in Oklahoma
, which killed at least two dozen people, may have your students wondering why such natural disasters occur, how they may be affected by them, and what they can do to help. Use these resources to teach the geography of Oklahoma and the Southwestern United States, to explain tornadoes, and to discuss the resulting crises with your class.
Top 10 Galleries
Explore our most popular Top 10 galleries, from Top 10 Behavior Management Tips for the Classroom and Top 10 Classroom Organization Tips from Veteran Teachers to Top 10 Free (& Cheap) Rewards for Students and Top 10 Things Every Teacher Needs in the Classroom. We'll help you get organized and prepared for every classroom situation, holiday, and more! Check out all of our galleries today.
May Calendar of Events
May is full of holidays and events that you can incorporate into your standard curriculum. Our Educators' Calendar outlines activities for each event, including: Backyard Games Week (5/23-29) and Memorial Day (5/27). Plus, celebrate Asian-Pacific-American Heritage Month, Clean Air Month, and Physical Fitness & Sports Month all May long!
Common Core Lessons & Resources
Is your school district adopting the Common Core? Work these new standards into your curriculum with our reading, writing, speaking, social studies, and math lessons and activities. Each piece of content incorporates the Common Core State Standards into the activity or lesson.