Source Reduction Unit: Environment Activities for the Classroom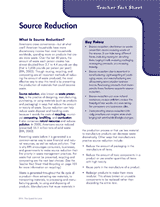 Source reduction, also known as waste prevention, is the practice of designing, manufacturing, purchasing, or using materials (such as products and packaging) in ways that reduce the amount or toxicity of waste. Use this printable packet of activities to help your students put this concept into practice.
Grade Levels: K - 6

Environmental Protection Agency

The Environmental Protection Agency leads the nation's environmental science, research, education and assessment efforts. The mission of EPA is to protect human health and the environment. Since 1970, EPA has been working for a cleaner, healthier environment for the American people.

Asian-Pacific-American Heritage Month
May is Asian-Pacific-American Heritage Month! Don't overlook this opportunity to study and enjoy activities about the history and culture of Asian-Pacific American communities.
Top 10 Galleries
Explore our most popular Top 10 galleries, from Top 10 Behavior Management Tips for the Classroom and Top 10 Classroom Organization Tips from Veteran Teachers to Top 10 Free (& Cheap) Rewards for Students and Top 10 Things Every Teacher Needs in the Classroom. We'll help you get organized and prepared for every classroom situation, holiday, and more! Check out all of our galleries today.
May Calendar of Events
May is full of holidays and events that you can incorporate into your standard curriculum. Our Educators' Calendar outlines activities for each event, including: Children's Book Week (5/13-19), Biographers Day (5/16), and Memorial Day (5/27). Plus, celebrate Asian-Pacific-American Heritage Month, Clean Air Month, and Physical Fitness & Sports Month all May long!
Common Core Lessons & Resources
Is your school district adopting the Common Core? Work these new standards into your curriculum with our reading, writing, speaking, social studies, and math lessons and activities. Each piece of content incorporates the Common Core State Standards into the activity or lesson.