You Are a Role Model
Page 1 of 2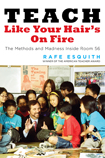 Never forget that the kids watch you constantly. They model themselves after you, and you have to be the person you want them to be. I want my students to be nice and to work hard. That means I had better be the nicest and hardest-working person they have ever met. Don't even think of trying to deceive your kids. They are much too sharp for that.
If you want your kids to trust you, it takes consistent caring and effort on your part. Some of my students laugh bitterly at a teacher they once had. They discuss her in the most unflattering of terms. She often comes to school late. She doesn't even realize it, but she's lost them. Why would the kids listen to her lessons when her constant tardiness tells them they are not that important to her? When she lectures them, they smile and nod their heads. Inside they are thinking, Screw you, lady.
This teacher talks on her cell phone constantly. Even when the kids are being taken somewhere, their fearless leader walks in front of them gabbing on the phone. Of course there are family emergencies and situations in which a teacher legitimately needs to take a call, but this woman is on the phone with her boyfriend. The same teacher thinks she is "secretly" shopping online while the kids do their science assignments. She believes the kids do not know what she is doing. She is very much mistaken.
There are thousands of role-modeling moments during a day of teaching, but a few of them are opportunities waiting to be seized. In my youth, I had days like the young teacher with the child's backpack. My behavior was never that extreme, but I would become angry and frustrated. I was wrong to do this. I hadn't learned that if you become angry over little things, the big issues are never even addressed. As a role model, the students need us to be advocates, not tyrants. I played the dictator enough as a young teacher to understand the futility of the role.

Reprinted by arrangement with Viking, a member of Penguin Group (USA) Inc., from Teach Like Your Hair's on Fire by Rafe Esquith. Copyright © Rafe Esquith, 2007.
Buy this book, and receive 15% off when you use the promo code, TEACH.

Asian-Pacific-American Heritage Month
May is Asian-Pacific-American Heritage Month! Don't overlook this opportunity to study and enjoy activities about the history and culture of Asian-Pacific American communities.
Tornadoes in Oklahoma
The recent rash of
tornadoes in Oklahoma
, which killed at least two dozen people, may have your students wondering why such natural disasters occur, how they may be affected by them, and what they can do to help. Use these resources to teach the geography of Oklahoma and the Southwestern United States, to explain tornadoes, and to discuss the resulting crises with your class.
Top 10 Galleries
Explore our most popular Top 10 galleries, from Top 10 Behavior Management Tips for the Classroom and Top 10 Classroom Organization Tips from Veteran Teachers to Top 10 Free (& Cheap) Rewards for Students and Top 10 Things Every Teacher Needs in the Classroom. We'll help you get organized and prepared for every classroom situation, holiday, and more! Check out all of our galleries today.
May Calendar of Events
May is full of holidays and events that you can incorporate into your standard curriculum. Our Educators' Calendar outlines activities for each event, including: Backyard Games Week (5/23-29) and Memorial Day (5/27). Plus, celebrate Asian-Pacific-American Heritage Month, Clean Air Month, and Physical Fitness & Sports Month all May long!
Common Core Lessons & Resources
Is your school district adopting the Common Core? Work these new standards into your curriculum with our reading, writing, speaking, social studies, and math lessons and activities. Each piece of content incorporates the Common Core State Standards into the activity or lesson.