Sense Receptors: Sending Signals to the Brain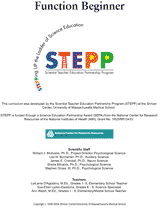 Use a lesson that explains that each of our senses is made up of different parts, called receptors. Each receptor plays a different role in receiving information from the environment. When the environment triggers a sense receptor, our brain receives and interprets the information, and our senses respond in a particular way.
Grade Levels: 3 - 4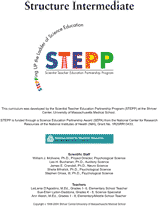 Brain Science Curriculum
Grades 3 and 4
Brain Science Curriculum
Grades 5 and 6
Scientists at the Shriver Center, University of Massachusetts Medical School in Waltham, Massachusetts, in collaboration with local elementary school educators and administrators have developed a neurobehavioral science education curriculum for use with children in grades 3-6. The Scientist Teacher Education Partnership Program (STEPP) began in 1998 through a grant funded by the Science Education Partnership Awards (SEPA) program of the Division of Clinical Research of the National Center for Research Resources (NCRR/NIH).
The goal of the STEPP project is to enhance science literacy by providing elementary and middle school students with innovative learning experiences that will establish the foundation for broad, socially connected understanding of how the brain works and how brain functioning relates to behavior. In designing the curriculum we have taken advantage of the environment and resources of the Shriver Center, a center of interdisciplinary scientific research training, and clinical service.
Funding provided by NIH-NCRR, Grant # 1R25RR13433, the Eunice Kennedy Shriver Center, University of Massachusetts Medical School and private donors.
© Shriver Center, University of Massachusetts Medical School, 2005.

Asian-Pacific-American Heritage Month
May is Asian-Pacific-American Heritage Month! Don't overlook this opportunity to study and enjoy activities about the history and culture of Asian-Pacific American communities.
Top 10 Galleries
Explore our most popular Top 10 galleries, from Top 10 Behavior Management Tips for the Classroom and Top 10 Classroom Organization Tips from Veteran Teachers to Top 10 Free (& Cheap) Rewards for Students and Top 10 Things Every Teacher Needs in the Classroom. We'll help you get organized and prepared for every classroom situation, holiday, and more! Check out all of our galleries today.
May Calendar of Events
May is full of holidays and events that you can incorporate into your standard curriculum. Our Educators' Calendar outlines activities for each event, including: Children's Book Week (5/13-19), Biographers Day (5/16), and Memorial Day (5/27). Plus, celebrate Asian-Pacific-American Heritage Month, Clean Air Month, and Physical Fitness & Sports Month all May long!
Common Core Lessons & Resources
Is your school district adopting the Common Core? Work these new standards into your curriculum with our reading, writing, speaking, social studies, and math lessons and activities. Each piece of content incorporates the Common Core State Standards into the activity or lesson.