President Benjamin Harrison Biography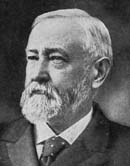 Return to U.S. Presidency - Index Page.
Return to U.S. Presidents' Biographies Page.
Born: 8/20/1833
Birthplace: North Bend, Ohio

Benjamin Harrison was born in North Bend, Ohio, on Aug. 20, 1833, the grandson of William Henry Harrison, the ninth president. A graduate of Miami University in Ohio, he took up the law in Indiana and became active in Republican politics. In 1853, he married Caroline Lavinia Scott. During the Civil War, he rose to brigadier general. A sound-money Republican, he was elected senator from Indiana in 1880. In 1888, he received the Republican nomination for president on the eighth ballot. Though behind on the popular vote, he won over Grover Cleveland in the electoral college by 233 to 168.
As president, Harrison failed to please either the bosses or the reform element in the party. In foreign affairs he backed Secretary of State Blaine, whose policy foreshadowed later American imperialism. Harrison was renominated in 1892 but lost to Cleveland. His wife died in the White House in 1892 and Harrison married her niece, Mary Scott (Lord) Dimmick, in 1896. After his presidency, he resumed law practice. He died in Indianapolis on March 13, 1901.
Died:
3/13/1901

Provided by Infoplease—an authoritative, comprehensive reference website that offers an encyclopedia, a dictionary, an atlas, and several almanacs. Visit Infoplease.com to find more resources endorsed by teachers and librarians.

Asian-Pacific-American Heritage Month
May is Asian-Pacific-American Heritage Month! Don't overlook this opportunity to study and enjoy activities about the history and culture of Asian-Pacific American communities.
Tornadoes in Oklahoma
The recent rash of
tornadoes in Oklahoma
, which killed at least two dozen people, may have your students wondering why such natural disasters occur, how they may be affected by them, and what they can do to help. Use these resources to teach the geography of Oklahoma and the Southwestern United States, to explain tornadoes, and to discuss the resulting crises with your class.
Top 10 Galleries
Explore our most popular Top 10 galleries, from Top 10 Behavior Management Tips for the Classroom and Top 10 Classroom Organization Tips from Veteran Teachers to Top 10 Free (& Cheap) Rewards for Students and Top 10 Things Every Teacher Needs in the Classroom. We'll help you get organized and prepared for every classroom situation, holiday, and more! Check out all of our galleries today.
May Calendar of Events
May is full of holidays and events that you can incorporate into your standard curriculum. Our Educators' Calendar outlines activities for each event, including: Backyard Games Week (5/23-29) and Memorial Day (5/27). Plus, celebrate Asian-Pacific-American Heritage Month, Clean Air Month, and Physical Fitness & Sports Month all May long!
Common Core Lessons & Resources
Is your school district adopting the Common Core? Work these new standards into your curriculum with our reading, writing, speaking, social studies, and math lessons and activities. Each piece of content incorporates the Common Core State Standards into the activity or lesson.