Feed the Birds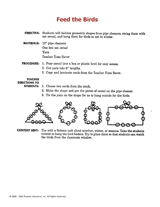 Children will make geometric shapes with pipe cleaners, string them with cereal, and hang them for birds to eat in the winter.
Grade Levels: 1 - 3
Excerpted from
Animals Printable Book (1-3)
Compiled by the editors of TeacherVision
®
Students learn about animals by identifying and naming pictured animals. Plus, they'll play games, solve puzzles, and more.