The Original Thirteen States Crossword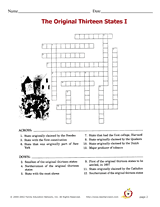 A crossword puzzle on the original thirteen states.
Grade Levels: 3 - 8
Excerpted from
New England States: Printable Book (3-8)
Compiled by the editors of TeacherVision
®
The challenging crossword puzzles in this printable book cover the New England states: Connecticut, Maine, Massachusetts, New Hampshire, Rhode Island, and Vermont. They're great for enrichment or review lessons.