Orphan Boy
by Tololwa M. Mollel
Page 1 of 2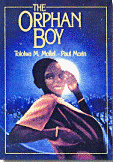 Many cultures of the world believe that their daily activities are connected and affected by mysterious occurrences within the universe. This relationship between humans and celestial bodies is often expressed by people in myths, legends, and folk tales. This theme will focus on a legend told by a pastoral people known as the Maasai. The Maasai inhabit the grasslands of Kenya and Tanzania, and their story provides us with a very beautiful explanation about how the planet Venus helped save an old Maasai man by turning into an orphan boy. It is a very powerful tale of people and nature working together.
Enrichment Activities
Internet Resources
Books by Tololwa M. Mollel
---
Enrichment Activities
Parts of a Legend
Legends are stories respected by their tellers as true. They usually take place in secular settings and portray human characters within historical situations. All cultures create legends and most of these legends become part of the oral tradition passed down from generation to generation.

Like most stories, legends have a setting, a problem, and a resolution. Discuss the setting, problem, and events leading to the final resolution of this Maasai legend.
Star Gazing
The beauty of a starlit sky belongs to all people inhabiting the earth. As we share in that beauty, many of us experience the same feelings of solitude, tranquility, and harmony with the unknown. We may also occasionally make a wish upon a star in the hope of bringing happiness to ourselves or someone we love. Maybe our wish, like that of the old Maasai man, will bring us prosperity and good fortune.
Encourage students to recall a "stargazing" experience they shared with a friend or relative. What was special about their evening with the stars? What did they learn about the stars relative to the sun, moon, and planets? How did their experience compare with that of the old Maasai man and the orphan boy?
Star Wishes
Have students close their eyes and pretend they are stargazing. Ask each child to contemplate and then write five wishes they would make and how these wishes would change their lives. When the class has completed assignment, discuss their wishes in the context of the Maasai legend, The Orphan Boy.

Star Stories
Create a story, as a class or individually, about a boy or girl who wished upon a star and had his or her wish come true.
Celestial Legends
Have your class write and illustrate a book titled Celestial Legends Around the World by having each student collect a legend from a different country. The legend should focus on the relationship between human and celestial bodies within a cultural or historical setting.
Pictures in the Sky
Have you ever seen a whale, a lion, or a swan in the sky? They are there, just waiting to be seen, when the stars come out, and the sky turns into an enormous picture book. These pictures are created by the stars themselves and finding them is an activity to be shared by young and old from anywhere in the world.
Using illustrations and reference guides, discuss how stars form constellations. Encourage students to become familiar with several of the constellations and what they look like in the sky. Use the Pictures in the Sky worksheet to help reinforce the outlines of these specific constellations. Assign an evening "star watch" to have students attempt to locate the constellations they have been studying.
Orirginal Star Pictures
Draw your own pictures in the sky. Plot stars on a piece of paper and have classmates connect the stars to make a picture.
Star Poems
Write a new version of the old poem "Twinkle, Twinkle, Little Star."
Twinkle, twinkle, little star,
How I wonder what you are.
Up above the world so high,
Like a diamond in the sky.
Twinkle, twinkle, little star,
How I wonder what you are.

Asian-Pacific-American Heritage Month
May is Asian-Pacific-American Heritage Month! Don't overlook this opportunity to study and enjoy activities about the history and culture of Asian-Pacific American communities.
Tornadoes in Oklahoma
The recent rash of
tornadoes in Oklahoma
, which killed at least two dozen people, may have your students wondering why such natural disasters occur, how they may be affected by them, and what they can do to help. Use these resources to teach the geography of Oklahoma and the Southwestern United States, to explain tornadoes, and to discuss the resulting crises with your class.
Top 10 Galleries
Explore our most popular Top 10 galleries, from Top 10 Behavior Management Tips for the Classroom and Top 10 Classroom Organization Tips from Veteran Teachers to Top 10 Free (& Cheap) Rewards for Students and Top 10 Things Every Teacher Needs in the Classroom. We'll help you get organized and prepared for every classroom situation, holiday, and more! Check out all of our galleries today.
May Calendar of Events
May is full of holidays and events that you can incorporate into your standard curriculum. Our Educators' Calendar outlines activities for each event, including: Backyard Games Week (5/23-29) and Memorial Day (5/27). Plus, celebrate Asian-Pacific-American Heritage Month, Clean Air Month, and Physical Fitness & Sports Month all May long!
Common Core Lessons & Resources
Is your school district adopting the Common Core? Work these new standards into your curriculum with our reading, writing, speaking, social studies, and math lessons and activities. Each piece of content incorporates the Common Core State Standards into the activity or lesson.